Please Note: Unless otherwise stated – all recipes are on Blue Plan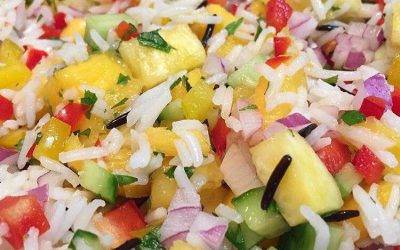 Summer Rice Salad My favourite summer salad Goes lovely with grilled chicken which is now 0 Smart Points! 2 cups boiled basmati rice (cooked & cooled)1 Small red onion (diced)1/2 Lebanese cucumber (diced)1/2 red capsicum (diced)1/2 yellow capsicum (diced)1-2...
read more
WW turned my life around. I lost 70 kilograms – that's an entire person, and half my body weight. I used to be the size of two people, and now I am just one . . .
When I walked into my local WW meeting one Saturday morning in 2012, I weighed almost 143 kilograms. For years I had been eating for emotional comfort, rather than nourishment.
After my beloved sister, Christina, died from a rare type of bone cancer – the same year my son, Ethan, was born – I had turned to food, no longer caring about myself or my health. This is when my weight got completely out of control. I knew I had to change the unhealthy habits that had become part of my daily life, and I left that first WW meeting armed with the knowledge and tools I needed to bring about change, including cookbooks, measuring spoons and kitchen scales.
I already knew how to cook: a happy childhood spent kneading pasta and baking delicious cakes alongside my beautiful Nonna had blessed me with a love of good ingredients and sharing meals. I just needed to learn a different way of cooking; to make it healthy and nourishing, as well as delicious.
I was – and still am – so lucky to have the unwavering support of Rodney, my husband, and Ethan (the light of my life). Initially overwhelmed by the task that lay ahead, I sobbed in Rodney's arms one night.
He then said the wise words that completely changed my attitude to my weight-loss journey: 'You can't change everything at once, Anna. You need to do things little by little.'
I decided to change one habit at a time and aim for achievable 5 kilogram goals. And it worked.
*Attention*
For the people worried about the QR Code scanning of my new book and no SP. Please rest assured it is easy and makes YOUR life so simple.
Scan the QR Code on your phone
It will open in a browser (Safari or Google) and will then go straight to your WW App with all the information your need to store into your day/week – no matter what plan you are on.
If you want, write in pencil the SP in your book – but please remember – PENCIL – WW is forever changing – updating – keeping abreast of everything new and innovative. This book moves with the times!