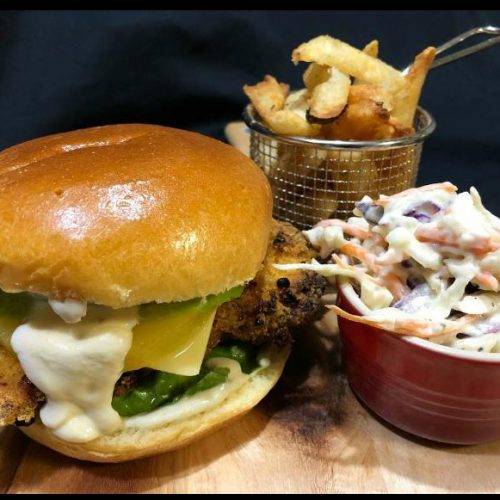 AFC Burger Meal Fakeaway (Air Fried Chicken)
Although I do love KFC, it doesn't love me! My tummy always hurts when I eat it so ... I don't! And I make my own take away!
This was a rival for the Zinger Works Burger, with a lot of Zing! I took my crunchy cornflake crusted chicken and gave it some zip with cayenne pepper added to the mix , and boy did it have Zing!
Served on a Brioche Bun with a side of chips & coleslaw (0sp dressing) and this was delicious. The whole meal pictured was 13 Weight Watchers Smart Points Very little compared to a KFC Meal.
I marinade the chicken in herbs/spices & yoghurt for tender and juicy chicken, yet crunchy and satisfying to bite into.
Ingredients
4

x 125gms chicken breast

1

cup

99% fat free yoghurt

2

tsp

salt

1

tsp

Pepper

2

tsp

cayenne pepper

2

tsp

garlic powder

1

tsp

paprika

2

tsp

dried mixed herbs

2

tsp

djon mustard

120

gms

crushed cornflakes
Dressing
2

tbls

99% fat free yoghurt mixed with 2 tsp djon mustard and squeeze half lemon juice to mix.

This dressing serves 4 burgers plus the dressing for the coleslaw.

McCain healthy choice chips were served with this 90gms for 3sp
Instructions
Add all the ingredients to a bowl (minus cornflakes) and coat the chicken. The longer it sits in the yoghurt mix the more tender it will be.

Coat the chicken in the cornflake crumbs and air fry at 180c for approximately 12 mins, and yes you can absolutely cook these in the oven, it turns out the same. 180c for 25-30 mins.
Notes
To put together the burger
1 Brioche bun (I used Aldi ones)
1 Slice Bega light 50% less cheese
1 pineapple ring (drained from juice) Lettuce
1 spicy zinger chicken breast
The burger alone is 10sp
Wedges | Fries Recipe