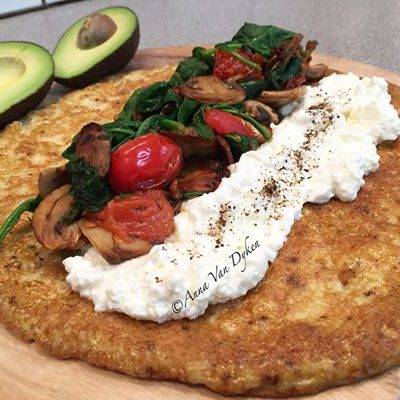 Egg Wrap With Panfried Veg & Cottage Cheese
Please note, by using different brands you will change the smart point values. Always run it through your recipe builder if your unsure.
Ingredients
2

eggs + 1 cup egg whites

100

gs WW cottage cheese

1/2

cup

sliced mushroom

1/2

cup

raw spinach

5

cherry tomatoes halved

2

x 3 sec spray olive oil

30

gms of avocado

optional

Salt & Pepper
Instructions
Heat a non stick pan, spray with oil & add mushroom and cook until just brown, add tomato & Spinach and cook until spinach is just wilted, set aside.

Whisk eggs & whites together season with salt & pepper. Heat a crepe pan and spray with oil, pour the eggs in, let the bottom set before flipping it over (if you find flipping it too difficult, you can finish the top in the oven).

Remove from pan once cooked and load your egg wrap with fav filings.
Notes
8 Weight Watchers Smart Points (with Avocado)
6 Weight Watchers Smart Points (without)