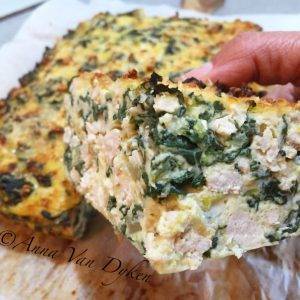 Silverbeet, Chicken & Leek Slice
Ingredients
400

gms

Chicken Mince

8

med eggs

1/4

cup

self raising flour

60

gms

Bega country 50% light grated cheese

20

gms

parmesan cheese

3

tsp

mixed dried herbs

2

garlic cloves grated

1

leek thinly sliced

1

bunch raw silverbeet shredded

2/3

cup

water

chicken stock or low fat milk

salt & pepper to tasteFresh flat leaf parsley

as much as you like chopped
Instructions
Preheat oven to 180c Fan Forced

Spray a non stick pan with cooking spray (3 second spray is 0 smart points), on a medium heat

Cook chicken mince, breaking it up as you go, until browned


Add leek, silverbeet, spices & garlic, until just cooked, then set aside to cool.
In another bowl
Add flour, eggs, water (milk or chicken stock) and cheese.

Once chicken mixture has cooled, add it to the egg mixture, combine, then spread evenly into a prepared baking dish ( i use a large pyrex dish 2.6L ),

Sprinkle with parmesan cheese

Bake in the oven for 45-50 minutes or until cooked and golden brown.

Notes
** Please note if using milk in place of water, the smart point value may change, or substituting any ingredient or product may also change the smart point value.