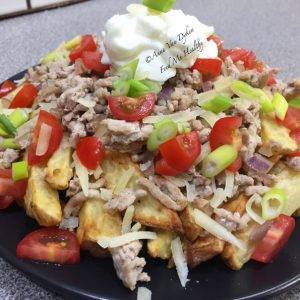 Loaded Fries
Have I mentioned how much I love my airfryer? It's quick, healthy cooking, especially when you want comfort food, and fries are very much comfort but these are a healthier version.
Ingredients
200

gms

Spud lite or Carisma potatoes

100

gms

lean pork mince

1

tsp

taco seasoning

2

x 3 second spray oil

25

gms

Bega country light 50% less fat grated cheese

20

gms

Chobani 0.5% plain yoghurt

6

Cherry Tomatoes diced

1

spring onion finely sliced

Salt & Pepper
Instructions
Slice potato into chips, season with salt & spray with 1 x 3 second spray.

Cook in the airfryer according to directions. If you don't have an airfryer you can cook in the oven.

In a non stick pan, spray 1 x 3 second oil and cook mince with taco seasoning, and pepper.
Set aside
Chop tomatoes & spring onion, measure out the cheese.

Once fries are cooked, plate them, layer the mince , tomato, cheese & spring onion over the top, then dollup the yoghurt.