Sometimes the cooking is easy – it's the CHOOSING that is the hard part.
Here we hope to make your choice a little easier !
Anna Van Dyken is Feed Me Healthy: Author, WW Ambassador, and everyone's Friend.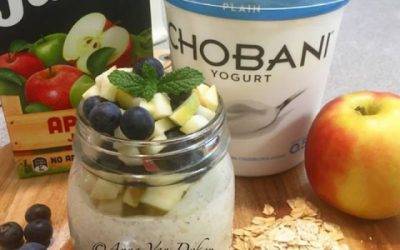 Overnight Oats - Apple & Blueberry These last in the fridge for up to 4 days so I make a few up at a time, you can flavour them as you like. 60 gms Chobani plain Greek yogurt30 gms rolled oats80 ml no added sugar apple juice8 gms raisinsPinch of cinnamon Mix...
Lunch Platter - Prawns Cooked prawnsBeautiful mixed tomatoesCucumber slices2 Boiled Eggs50 gms Always Fresh Pitted Olives55 gms South Cape Reduced Fat Greek Feta Home made seafood sauce1 big Tbls Yopro plain1/2-1 tsp @celebratehealth Tomato sauce1/4 tsp...
Salmon in Springwater Salad It's a case of whatever I had in the fridge and pantry! It's shopping day so this is as good as it gets! How many times has canned salmon, corn or bean mix saved me?!Literally pantry staples Dressing I will drizzle over the top.Can't...
Edible Crunchy Wrap Bowls Extremely Satisfying to crunch on this lunch! And would you believe it's only 4 Weight Watchers Smart Points! Delicious 1 x Wattle Valley Lite Wrap (3sp bought from IGA)20 gms Avocado (1sp)Grilled chicken Breast (marinated in 1tbls Lite sweet...
Salad - Chicken Waldorf 3 WW Smart Points The only points in this salad is the walnuts 150 gms cooked chicken breast2 medjool Dates chopped1 small red apple sliced2 sticks celery chopped2 Tbls flat leaf parsley chopped4 cherry Tomatoes halved (optional)15 gms...
Sausage Rolls - Pork Apple & Thyme 500 gms heart smart pork mince3 apples grated1 slice of hi fiber white bread (mines from brumby' bakery (made into crumbs)6 sheets filo pastry1 egg1/2 onion diced finelyFresh thyme (salt, pepper)2 tbls sesame seeds (distributed...
Filo Pasties 6 sheets Filo pastry1 cup sliced mushrooms2 bags of steam fresh frozen peas carrot & corn1 onion diced400 gm lean beef mince1 tbls Worcestershire sauce1 tbls original gravy powder1 tbls tomato pasteSalt & Pepper1/2 tsp mixed dried herbsOil spray...
Italian Chicken & Risoni Bake I'm so pleased with the flavour of this one and so was my family. Little effort, big taste win 500 gms Chicken Breast Mince1 cup Risoni pasta (dry)2 tsp Masterfoods Tuscan Seasoning1 Tbls balsamic vinegar2 tsp garlic olive oil1 cup...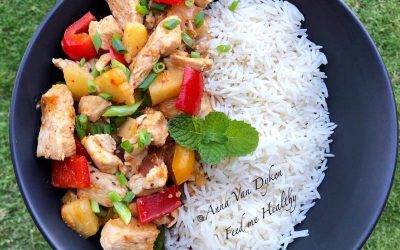 Sweet & Sour Chicken 500 gm Chicken Breast diced1 large onion diced chunky1 yellow capsicum diced chunky1 red capsicum diced chunky1 orange or green capsicum diced chunky1 400gm tin of pineapple pieces in juice drained2 Tbls soy sauce2 Tbls Ayam light sweet chilli...
Mango Salad with Citrus Dressing 2 punnets of cherry tomatoes halved75 gms south cape feta cheese (reduced fat)1/2 Lebanese cucumber diced1/2 red onion diced2 small mangos diced1/4 cup fresh mint chopped finely1/2 Fresh orange (juice only)1/2 Fresh lime (juice...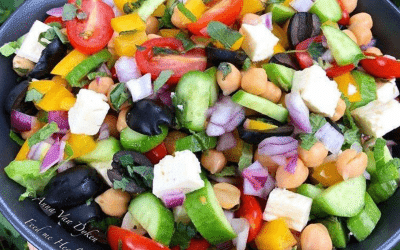 Greek Chickpea Salad 1 x 400gm can chickpeas drained55 gms cubed South cape reduced fat feta1 small red onion diced1/2 punnet cherry Tomatoes sliced in half1 medium yellow Capsicum diced70 gms Always Fresh Black pitted olives sliced in half (you can use kalamata...
Corn, Polenta & Cheesy Parmesan Fritters Vegetarian, Gluten Free & Delicious 1/4 cup grated Parmesan 1/2 cup Polenta 2 fresh corn cobs (300gms ish) 2 tsp gluten free baking powder 2 cups zucchini (all water drained off really really well) 2 Tbls fresh...
Chicken Burrito Bowl Who doesn't love a bowl full of goodness and colour!! Need to feed the soul and the tummy - well this is IT !! 1 x 150gm chicken breast1 tsp masterfoods Portuguese seasoning1/2 cup boiled basmati rice25 gms sliced avocado1/3 cup corn...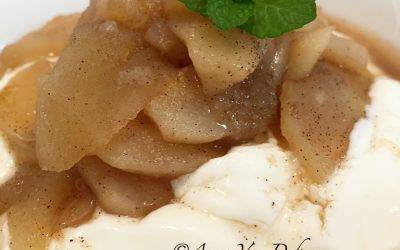 Poached Apples & Pears In Vanilla & Cinnamon When you have a sweet craving but want something healthy. Add the fruit over hot oats for breakfast, with custard, or yoghurt as a dessert, or even as a base for apple crumble. Enjoy hot or cold. 4 Pink Lady...
Pumpkin Spiced Cake or Bread 1 cup pumpkin purée (I made my own by steaming butternut pumpkin)3/4 cup unsweetened vanilla almond milk1 cup date paste *see note at the bottom*2 eggs1/2 tsp baking powder1 tsp bi carb soda2 cups wholemeal plain flour (all purpose flour)2...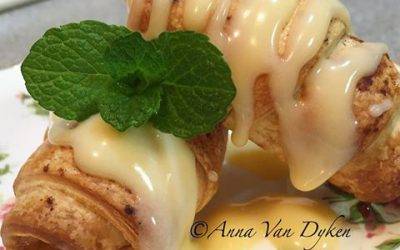 Apple Filled Croissant Pastries 1 sheet of reduced fat puffed pastry2 tsp brown sugar1 tsp of cinnamon or apple pie spice1 Apple (I used pink lady)Oil spray Cut pastry into 6 long trianglesSprinkle with brown sugar & apple pie spiceCut 1 Apple up thickly and place...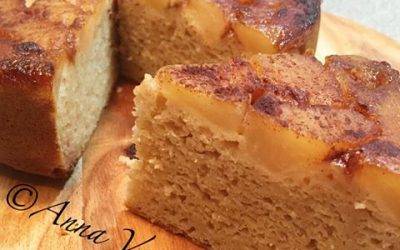 Cake - Apple & Cinnamon Upside Down 2 tbls brown sugar2 tsp ground cinnamon2 eggs120 gms Chobani plain yoghurt1/2 cup caster sugar2 tins 400 gm tin apple pie slices1 cup self raising flour (sifted)1/2 cup no added sugar apple purée Line a 20cm form pan at the base...
Mini Apple Pies 2 apples1/2 tsp cinnamon1/2 tbls plain flour1 tbls sweetener10 gms short crust pastry Core out 2 apples, (I used pink ladies)Put the insides in a bowlAdd 1/2 tsp cinnamon 1/2 tbls of plain flour and 1 tbls sweetener of choiceMix together and repack it...
Vanilla & Peach Toasted Meringue Pots 8-9 medium fresh ripe peaches2 tsp cinnamon1 tbls queens sugar free maple syrup1 tsp vanilla3 tbls water3 egg whites2 tbls sugar1/2 tsp vanilla paste1/4 tsp cornflour1/4 tsp white vinegar Peel and slice peaches, place in a pot...
Anzac Biscuit 1 cup sifted plain flour1 cup rolled oats1/3 cup brown sugar1/3 cup coconut100 gms butter2 Tbls golden syrup1 Tbls water1/2 tsp bi carb soda Sift flour to a bowl, add all dry ingredients excluding bi carb soda.To a saucepan add butter and melt, pour in...
Almond Butter Cups For the base3/4 cup raw almonds ground into a meal1/4 cup rolled oats ground into a flour2 tbls 50gms raw almond butter1.5 tbls coconut oil (warmed if necessary)1.5 tbls queens sugar free maple syrup1/4 tsp cinnamon1/4 tsp pure vanilla extractPinch...
Home Made Jube Lollies 1 packet low cal jelly5 gms gelatine1/2 cup boiled water (from the kettle) Mix together all ingredientsPour into chocolate or lollie moulds.Set in the fridge for 1-2 hours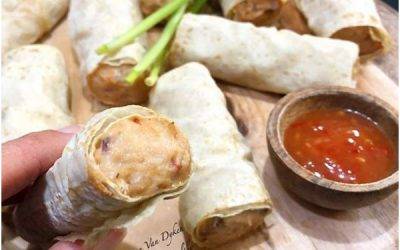 Sausage Rolls - Mountain Bread These were so popular with my boys last time I made them I thought I'd make another batch! They never last long and for me they are low fat and low Smart Points too. Although not a traditional sausage roll, they suit my way of...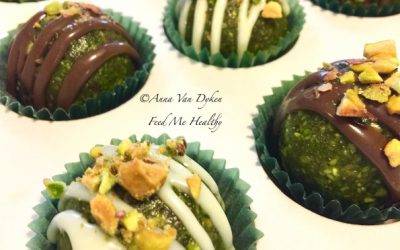 Bliss Balls - Lemon Pistachio Matcha 70 gms Pistachio75 gms Cashews12 Pitted Medjool Dates2 tsp Matcha Powder1 tsp Vanilla Bean Paste1 tbls Coconut Oil1 tbls Lemon Zest14 gms Desiccated CoconutPinch of Sea Salt14 gms Nestle milk or White or a mix ChocExtra 5 gms of...
Chocolate Brownie Bliss Balls These are incredibly Sweet, Rich & Fudgy just like Chocolate Brownies but in Bliss Ball form. Quick and Easy as all my recipes are You'll need a whole 10 minutes to make them 50 gms Walnuts100 gms Rolled oats2 Tbls Queens Sugar...
Bliss Balls - Lamington Got 10 minutes to spare? Because that's all it takes to whip these up! Get the kids involved, they love rolling 100 g raw roasted almonds or 100gms rolled oats2 Tbls cocoa powder12 medjool Dates (pitted)2 tsp honey2 1/2 Tbls desiccated...