Sometimes the cooking is easy – it's the CHOOSING that is the hard part.
Here we hope to make your choice a little easier !
Anna Van Dyken is Feed Me Healthy: Author, WW Ambassador, and everyone's Friend.
Peaches & Cream Overnight Serves 2 1 cup rolled oats3/4 cup vanilla unsweetened almond milk6 tbls Chobani 0.5% fat yoghurt plain1 tin of drained peach halves100 gms perfect Italiano light Ricotta1.5 tbls queens sugar free maple syrupPinch of cinnamonAdd a dash of...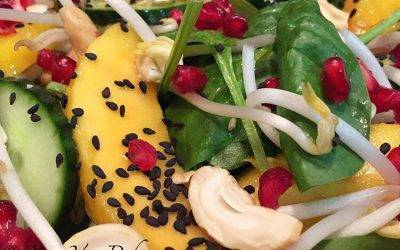 Spinach & Mango with Cashew Salad 30 gms cashews1 bag of fresh Spinach leaves1 - 2 handfuls of Bean shoots (as much as you like)1 large mango slicedmint leaves (whole)1/2 pomegranate (seeds only)1 small cucumber sliced5 gms of black sesame seeds. The juice of the...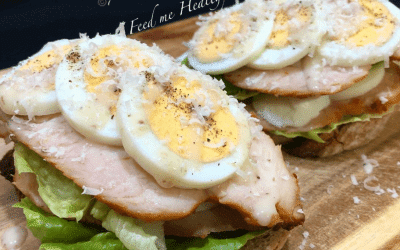 Chicken Caesar Open Sandwich 2 Light Rye bread toasted ((50gm slices))1/2 clove garlic1 grilled chicken breast sliced2 hard boiled eggs slicedCaesar Salad leaves20 ml Paul Newman honey mustard salad dressing (light)Salt & Pepper1 tsp grated Parmesan cheese (If you...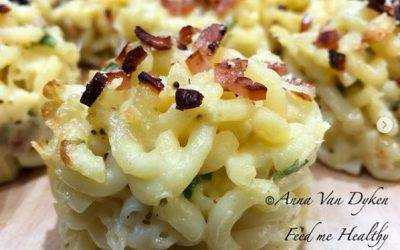 Muffins - Bacon, Mac and Cheese To say I'm excited about my latest creation would be a complete understatement!! I L?VE Mac n Cheese! But not the points! SO I worked on these today and they are PERFECTLY PERFECT ???? I hope you enjoy them as much as I did!...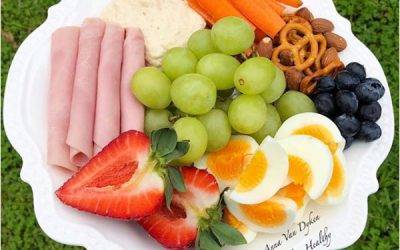 Lunch Platter - Ham Snack or Lunch you decide! That's the best part about weight watchers, you do it your way 10 Pretzels (weighed as well, I use Coles or Woolworths brand)6 Roasted Almonds60 gms Dons Shaved Honey Ham2 Hard Boiled EggsCarrot SticksZero SP HomeMade...
Lunch Platter - Zucchini & Bacon Grilled Zucchini100 gms Grilled Bacon (from aldi (2sp))Panfried muchroomtomato in 1tsp oil (1sp)2 eggs mixed with 2tbls water whisked then scrambled (0sp)Wilted Spinach (0sp) Tag @feedmehealthy_annavandyken on...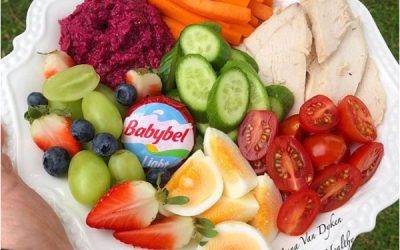 Lunch Platter - Chicken I love pre preparing this the night before, so when I get home it's a matter of pull it out and eat! Just as easy to put together if I haven't done that though as everything is already in the fridge ready in containers Chicken Breast...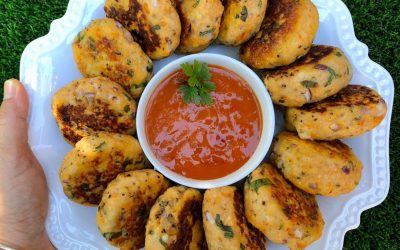 Sweet Potato & Chicken Patties These turned out to be a delightful & delicious finger food. I had some leftover sweet potato, so I turned them into patties. 500 gms Chicken Breast Mince 200 gms cooked sweet potato 1 red onion finely diced 2 garlic cloves...
Crustless Quiche Light & fluffy plus tasty & easy = Perfect . What's the difference between a frittata & a Quiche? Quiche is more of an egg custard meaning it has milk, eggs and or cream, a frittata is mostly just egg, and a lot denser in texture. 4...
Healthy Mac n Cheese Bake A slight variation on my Mac n Cheese Cups 250 gms dry pasta (I used small pasta shape)100 gms Mozerella light shredded Cheese (Coles or Woolworths brand)175 gms Reduced fat short cut bacon (I used Aldi Berg short cut)1 small onion (diced)2...
Crunchy Cornflake Crumbed Chicken tenders with honey mustard sauce . What's for dinner at your house ? I had a craving for crunchy crispy kfc tenders with their honey mustard sauce, but I don't want all those ridiculous points, so I'm having this instead! Tenders500...
Love Nandos ? So do we - this is the next best thing, without the fat!!  Portuguese Chicken Burger Nando's Style 1 Aldi Brioche Bun1 Chicken Breast1 tsp Masterfoods Portuguese Seasoning1 tbls Plain 99% fat free yoghurt1/2 tsp Nandos Hot sauce (or mild if you...
Rainbow Salad with Grilled Lemon Herb Garlic Chicken Marinade for My Lemon Herb Garlic Chicken The Chicken500 gms Chicken Breast Tenderloins or BreastZest & Juice of 1 large lemon1/4 cup fresh chopped thyme1 tsp dried oregano3 cloves of garlic grated2 tsp garlic...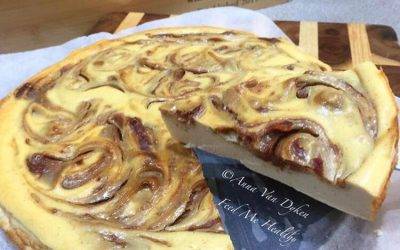 Baked Vanilla Salted Caramel Swirl Cheesecake Something naughty that's actually healthy! 750 gms Reduced fat Ricotta cheese (From the deli not the tub)130 gms Chobani 0.5% yoghurt or Aldi high protein yoghurt1 Tbls Pure maple syrup1-2 whole vanilla beans (split in...
Caramelised Pineapple Upside Down Cake As everyone knows, my husband LOVES pineapple, so I have adapted this recipe to suit my love ♥ 1 tin crushed pineapple (in juice drained)2 tsp Cinnamon2 Tbls brown sugar1/3 cup caster sugar1 cup self raising flour...
Lemon & Raspberry Cheesecakes For the filling :240 gms reduced fat Ricotta (from the deli dept)180 gms Philly cream cheese light (block at room temperature)1 tbls sweetner (i use xylitol)1 tbls fresh lemon zest1/3 cup fresh lemon juice1 egg1 tsp vanilla...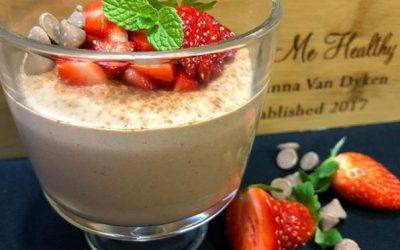 Chocolate Mousse Can be used as a dip also - also known as Chocolate Maple Mousse 180 gms Yopro (plain) yogurt20 gms Sugar Free Drinking Chocolate2 tsp Sugar Free Maple Syrup Whisk ingredients together until combined, light & fluffy. Top with fresh...
Choc Raspberry Swiss Roll Afternoon Tea Special Treat For the Sponge3 eggs1/4 cup caster sugar2 1/2 Tbls Plain flour (sifted)2 tsp icing sugarFor the Filling250 gms Plain Yopro2 Tbls Avalanche Sugar Free Drinking Chocolate1 Tbls Queens Sugar Free Maple Syrup1 cup...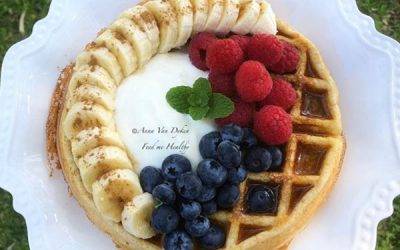 Waffles - Apple Pie Because I enjoyed my apple pancake recipe so much the other day, I took my recipe and made it into a big waffle! Worth it 4 WW Smart Points for the whole plate 3 Tbls self raising flour1 tsp baking powder2 eggs1/2 tsp Cinnamon1/2 cup mashed...
Lemon Weetbix Cakes with Lemon Cheesecake Frosting This has been adapted from a slimming world recipe, I've changed it to make it WW friendly, quite a dense fudgy cake that is a really big serve for only 3sp including topping, and not really mini as per say! so yummy...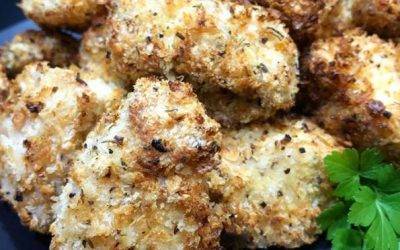 Home Made Chicken Nuggets 500 gms Chicken Breast Cut into Chunky Cubes3/4 Cup Panko Breadcrumbs1 Tbls Masterfoods tuscan seasoningSalt & Pepper2 eggs whisked Whisk eggs in a bowl, add all the cut chicken and mix, in a seperate bowl mix salt pepper, tuscan...
Mountain Bread Spring Rolls This filling is SO incredibly delicious, I made it again and had it with rice & Veg, but in this particular case, I made spring rolls to pop on a platter. They were crunchy & delicious served with Light Sweet Chilli Dipping...
Salmon Filoettes With Sprig Of Dill 1 packet of Filoette pastry cases (available at IGA)1 tub Philadelphia Smoked Salmon Cream Cheese15 Sprigs of Dill tips Fill a piping bag with the smoked salmon cream cheese, and pipe mixture into the filo pastriesTop each one with...
Quinoa Cups 3 cups cooked tricolour quinoa4 eggs100 gms Hans ww endorsed bacon1 cup raw spinach leaves125 gms raw grated pumpkin2 tsp mixed herbs or fresh100 gms low fat Feta cheeseSalt & Pepper Dice bacon, chop spinach & crumble Fetaplace into a bowl and add...
Sausage Rolls - Pork Apple & Thyme 500 gms heart smart pork mince3 apples grated1 slice of hi fiber white bread (mines from brumby' bakery (made into crumbs)6 sheets filo pastry1 egg1/2 onion diced finelyFresh thyme (salt, pepper)2 tbls sesame seeds (distributed...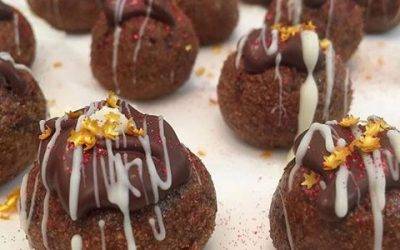 Christmas Pudding Bliss Balls Tastes like Christmas 12 medjool dates (pips removed)20 gms macro wholefoods almond meal45 gms Avalanche Sugar Free drinking chocolate1/2 tsp vanilla essence1 tsp ground cinnamon1/4 tsp cloves1/4 tsp ginger1/4 tsp nutmeg2 tbls water to...
Apple Pie Bliss Balls Who doesn't love the flavours of apple pie? These were a total experiment that went absolutely fabulously and the taste was on point. They took literally 10 minutes to make, and they disappeared very quickly. The big tick of approval from my...
Anna's Cocoa Bliss Balls As featured on the Official WW App 100 gms Raw Almonds2 Tbls Cocoa10 Medjool Dates (remove seed)2 Tsp Honey1 Tbls Sugar Free Maple20 gms Desicated Coconut Place all ingredients into a food processor EXCLUDING the coconut.Blitz to...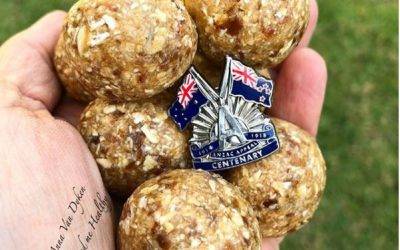 ANZAC Bliss Balls 100 gms rolled oats10 soft juicy fat medjool Dates2 tsp golden syrup1 Tbls queens sugar free maple30 gms desiccated coconut Everything goes into the food processor and blitz until a soft dough forms.Using a cookie scoop, fill and roll into 20...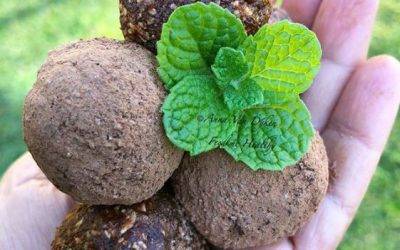 Bliss Balls - Mocha Maple Seriously these are THE BEST Bliss Balls I think I've ever created. The taste is just INCREDIBLE. If you love Mocha please give these a go, SO Moorish and bigger than my average Bliss Balls I make. 50 gms roasted almonds90 gms rolled oats12...
Chocolate Peanut Butter Balls 1 tsp coconut oil200 gms peanut butternatural 100% nuts (I got mine from the health food store, they make their own with nothing but nuts)Pinch of salt20 gms coconut flour40 gms pure maple syrup60 gms Lindt dessert premium dark chocolate...