Sometimes the cooking is easy – it's the CHOOSING that is the hard part.
Here we hope to make your choice a little easier !
Anna Van Dyken is Feed Me Healthy: Author, WW Ambassador, and everyone's Friend.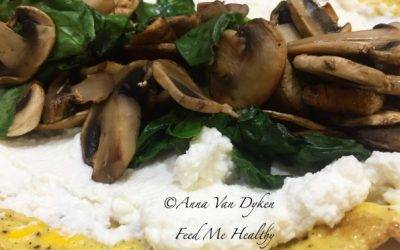 Crepe - Egg - Filled With Ricotta Mushroom & Spinach 2 Eggs + 1/3 Cup egg whites whiskedSalt + Pepper1 1/2 Cup Mushrooms sliced1 1/2 Cup Spinach (raw)130 gms Perfect Italiano Light Ricotta2 x 3 Second Spray Olive Oil Over a med heat, spray pan and sauté Mushroom...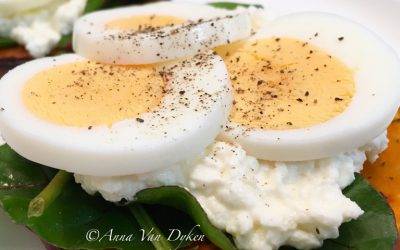 Cottage Cheese, Spinach & Egg On Pumpkin Rounds For me, snacking between meals is essential. It keeps my hunger at bay and carries me over til my next meal. On hungry days I try and stick to whole foods that will keep me fuller longer. 2 thick slices of butternut...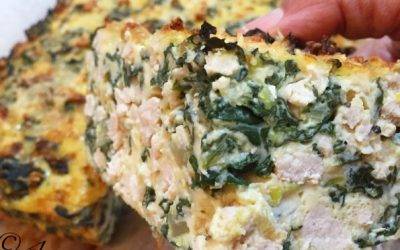 Silverbeet, Chicken & Leek Slice 500 gms Chicken Breast Mince 8 med eggs 1/4 cup self raising flour 60 gms Bega country 50% light grated cheese 20 gms parmesan cheese 3 tsp mixed dried herbs 2 garlic cloves grated 1 leek thinly sliced 1 bunch raw silverbeet...
Prawn Stir Fry For One 1-2 cloves garlic200 gms raw green peeled prawns1-2 tsp fresh ginger grated (optional)Stir fry mix (store bought tonight)Oil spray1/2 tsp Black sesame seeds1 tbls light sweet chilli sauce2 tsp lite soy sauce.salt & pepper (chilli optional)...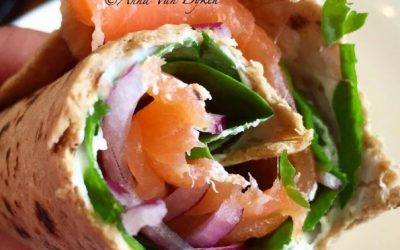 Smoked Salmon & Philly Cheese Wrap 1 Goodness Superfoods Barley Wrap30 gms Kraft Philly spreadable extra Light Cream Cheese1/3 cup raw Spinach leaves100 gms Smoked SalmonSpanish Onion1 tsp Capers Layer it all in the wrap
Skinny Caesar Salad with Chicken 100 gms Grilled chicken breast cooked in oil sprayCos lettuce (as much as you like)10 gms anchovies (optional)1 tbls shaved Parmesan cheese42 gms Hans WW endorsed bacon (grilled & thinly sliced)Thinly sliced red onion (as much as...
Feed Me Healthy Pizza Killing the pizza cravings the healthy way! 1 x rye mountain bread30 gms Bega country light grated cheese20 gms leggos tomato pizza sauce50 gms dons shaved hamCapsicum dicedOnion dicedMushroom dicedItalian herbs sprinkled over the toppepper &...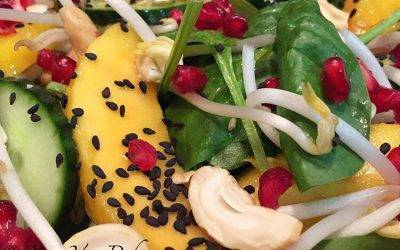 Spinach & Mango with Cashew Salad 30 gms cashews1 bag of fresh Spinach leaves1 - 2 handfuls of Bean shoots (as much as you like)1 large mango slicedmint leaves (whole)1/2 pomegranate (seeds only)1 small cucumber sliced5 gms of black sesame seeds. The juice of the...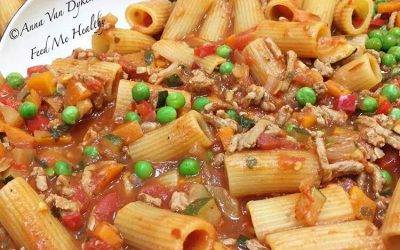 One Pan Pasta Bolognese With Peas 225 gms dry rigatoni pasta1 x 3 second oil spray300 gms steggles turkey mince1 red Capsicum diced2 carrots diced1 medium zucchini diced1 medium brown onion diced2 sticks celery diced1 cup frozen peas3 garlic cloves crushed2 x 400gm...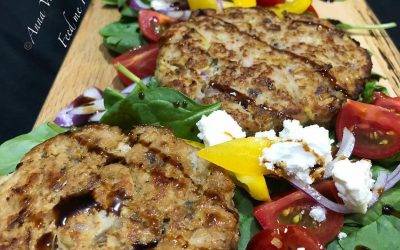 Tuscan Pork & Apple Burger Patties These were succulent flavourful and delicious A make your own burger dinner platter. Arranging the burger patties & salad on a platter or board makes it an easy family style meal of putting it together yourself in the...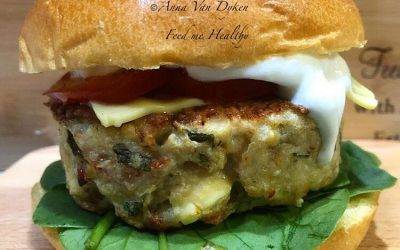 Mediterranean Chicken Burger So I turned my Mediterranean Chicken Meatballs into Burger Patties. Holy Yum Batman ? I made 4 GIANT Patties for 4sp each (bit of an overkill) should have made them smaller but I was lazy ? anyway .... THE PATTIE500 gms Chicken Breast...
  Teriyaki Chicken Grilled This may be an EASY recipe idea but sometimes I look at my fridge and say - WHAT NOW!!! Anyone else the same ? Simple Quick Delicious & Easy. Meals don't need to take hours to make or be tasty, sometimes in less than 10 minutes...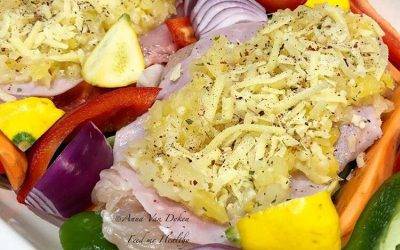 Hawaiian Chicken Bake My Husband LOVES Chicken & Pineapple Everything SO I thought I'd put them together as an EASY oven meal in one dish! 2 x 150gms Raw Chicken Breast (I bought the breast snitzels)4 slices Don's Shaved Honey ham (2 slices per breast)1/4 fresh...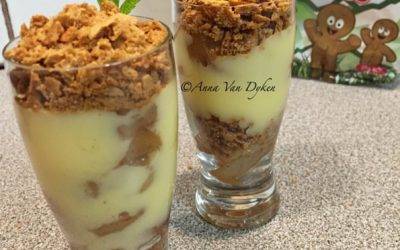 Ginger Pear and Custard - Mini Desserts 2 pears (peeled and sliced)Pinch of cinnamon1 tsp vanillaWater to cover1/4 cup Paul's light custard1 packet of unibic gingerbread babies (they come in a multipack in the biscuit isle) Poach or stew 2 pears in cinnamon, water...
Triffle - Coconut Jelly Trifecta Lime jellyStrawberry jellyraspberryfresh mintCoconut Jelly160 ml can of TCC light coconut milk3/4 tsp powder gelatine (I dissolved in a little hot water) I Made up 2 different low joule jelly (lime & strawberry)2 tbls spoons of...
Triffle - Lamington sliced strawberriesdiet strawberry jelly2 tbls of Paul's vanilla low fat custard1 Woolworths select lamington finger in halfblueberries Bottom layerSliced strawberriesPour over diet strawberry jelly - 1/4 way up the glassSet in fridge.Once setPour...
Ice Cream Sunday's - Mini Taco Boat Banana 1 mini taco boat (ole El Paso)7 gms Coles simply less plain dark Choc melted6 roasted almonds chopped30 gms peters no added sugar vanilla ice cream1 small banana chopped2 strawberries chopped1 tbls diet Choc topping (I...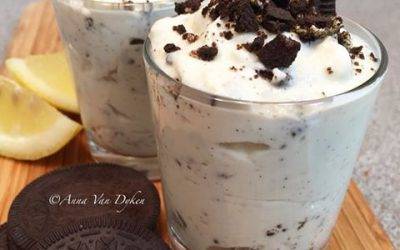 Parfait - Lemon Oreo Cheesecake Serves 1 (even though there's 2 pictured) 50 gms Philadelphia extra light spreadable cream cheese60 gms light ricottaZest of a lemon (as much as you like)1/4 tsp honey1 tsp sweetner of choice (optional)1 tsp vanilla (I used paste)1 tsp...
Pancakes - Apple Pie Next Level Deliciousness 2 WW Smart Points for the whole plate ?? . . These are SUPER MOIST and Fluffy 1 serving is 3 big pancakes at 2sp 3 Tbls self raising flour1 tsp baking powder2 eggs1/2 tsp Cinnamon1/2 cup mashed cooked apple (I...
No Results Found
The page you requested could not be found. Try refining your search, or use the navigation above to locate the post.
No Results Found
The page you requested could not be found. Try refining your search, or use the navigation above to locate the post.