Sometimes the cooking is easy – it's the CHOOSING that is the hard part.
Here we hope to make your choice a little easier !
Anna Van Dyken is Feed Me Healthy: Author, WW Ambassador, and everyone's Friend.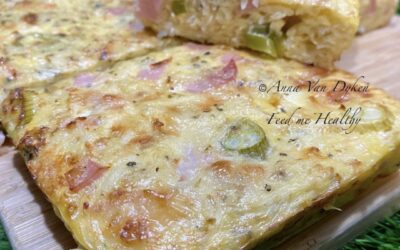 Cheesy Potato & Bacon Breakfast Bake Breakfasts are sorted with this easy throw together bake!Would actually make a nice little snack box addition cutting this into smaller portions too.Enjoy straight from the oven or at room temperature this one was a winner with...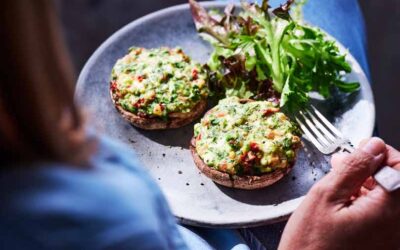 Spinach & Ricotta Stuffed Mushrooms My delicious mushrooms are the perfect option for a light lunch, either served with a crispy side salad, or simply on their own. Omit the bacon and you have a vegetarian alternative, just as flavoursome. 6 Large flat mushrooms...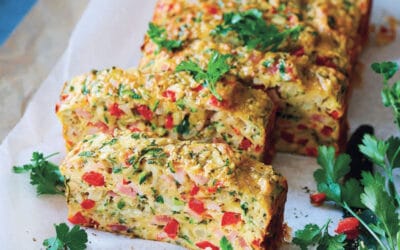 Anna's cheese and bacon breakfast loaf Recipe from Anna's cookbook, 'How I've Kept The Weight Off'. Preparing simple dishes like this in advance keeps Anna organised during a busy week, and she can pre-track the recipe the night before. This loaf...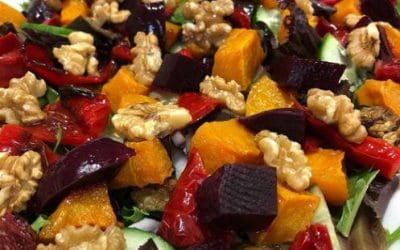 Roasted Vegetable Salad 1/2 Butternut Pumpkin2 Red capsicum2-3 Beetroot (depending on size)1 Eggplant Dice all the vegetables, lay them on a roasting tray, lightly spray with real olive oil, toss and roast until just cooked.180c for 35-40 minutes depending on...
Crustless Quiche Light & fluffy plus tasty & easy = Perfect . What's the difference between a frittata & a Quiche? Quiche is more of an egg custard meaning it has milk, eggs and or cream, a frittata is mostly just egg, and a lot denser in texture. 4...
Rainbow Salad with Grilled Lemon Herb Garlic Chicken Marinade for My Lemon Herb Garlic Chicken The Chicken500 gms Chicken Breast Tenderloins or BreastZest & Juice of 1 large lemon1/4 cup fresh chopped thyme1 tsp dried oregano3 cloves of garlic grated2 tsp garlic...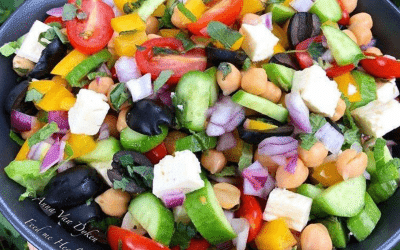 Greek Chickpea Salad 1 x 400gm can chickpeas drained55 gms cubed South cape reduced fat feta1 small red onion diced1/2 punnet cherry Tomatoes sliced in half1 medium yellow Capsicum diced70 gms Always Fresh Black pitted olives sliced in half (you can use kalamata...
Cheese Broccoli Tuna Pasta Bake My boys absolutely love tuna mornay and I'm a massive fan of mac 'n' cheese. So I've been inspired to combine the best of both worlds and create this delicious and simple fusion. Success! 250 g elbow pasta1 tsp garlic-infused olive oil1...
Anna's Cauliflower Parmigiana Tray Bake Recipe from Anna's cookbook, 'How I've Kept The Weight Off'. Anna's love of parmigiana is undeniable, so she thought it'd be great to enjoy it in a meat-free version as well. Anna serves it with chips...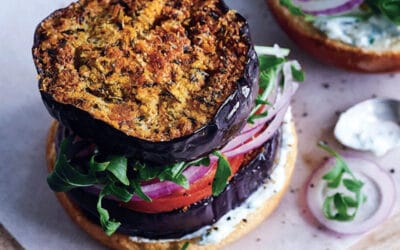 Eggplant Veggie Burger Recipe from Anna's cookbook, 'How I've Kept The Weight Off'. This recipe is a healthier, homemade alternative to one of Anna's favourite café meals. The secret ingredient is nutritional yeast – it tastes exactly like...
Anna's Cheat's Cabbage Roll Recipe from Anna's cookbook, 'How I've Kept The Weight Off'. Anna remembers watching her mum prepare cabbage rolls when she was a child. They didn't eat them often, as they were so time consuming to make. However,...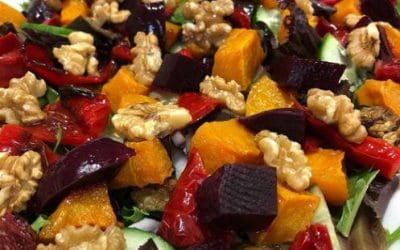 Roasted Vegetable Salad 1/2 Butternut Pumpkin2 Red capsicum2-3 Beetroot (depending on size)1 Eggplant Dice all the vegetables, lay them on a roasting tray, lightly spray with real olive oil, toss and roast until just cooked.180c for 35-40 minutes depending on...
Middle Eastern Lamb with Hummus Platter Hummus800 gms Chickpeas (reserve half a cup and set aside) (2 tins)1-2 Garlic cloves1 Lemon zest & juice1-2 - 1 cup Water (add as needed)2 tbls Plain no fat yoghurtSalt & pepperLamb400 gms Lean lamb mince1 tsp Olive oil...
Chocolate Almond Slice I can confirm that this slice is absolutely DELICIOUS! Rich and naturally sweet, this is a treat for all chocolate lovers. 65 g Roasted Almonds45 g Gluten Free Rice Puff Cereal (see tips)400 g chopped pitted medjool dates100 g Almond butter2 tsp...
Lemon and Fresh Raspberry Cheesecake Tart Base12 Medjool Dates100 gms Roasted AlmondsFilling240 gms Reduced fat ricotta cheese room temperature200 gms Light cream cheese room temperature1 Egg1 tsp Vanilla bean paste1/3 cup Unsweetened vanilla almond milk1/3 cup Lemon...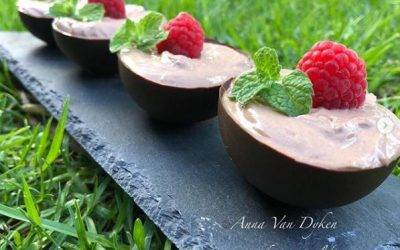 Chocolate Mousse Eggs This is what I will be serving as a dessert over Easter and I think it will go down a healthy treat. I tried it out on my boys last night and it was gobbled down with delight. 150 gms Coles Simply Less No Added Sugar dark chocolate360 gms Yopro...
Baked Vanilla & Lemon Cheesecake For the filling 250 gms Philadelphia cream cheese light block at room temperature 150 gms low fat ricotta 1 Tbls sweetener (I used xylitol) 1 whole lemon zest 1/4 cup lemon juice 1 tsp vanilla paste 1/2 cup Yopro plain yoghurt 2...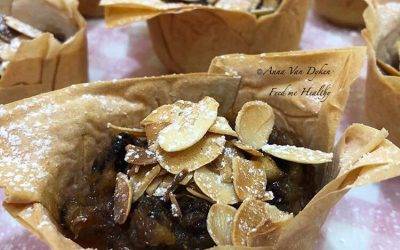 Fruit Mince Tartlets Best served the same day as cooking. 3 sheets filo pastry 240 gms fruit mince mix (SEE NOTES) 4 x3 second oil spray 6 tsp flakes almonds (toasted) Layer 3 sheets of filo pastry over each other, spraying oil spray in between each sheet. Cut...
Faux Triffle It's a good Christmas Dessert without all the points. These are NOT mini - they are FULL SIZE for more fun 😀 1 pkt Green lite jelly1 pkt Strawberry lite jelly3/4 cup Paul's light custard460 gms Yopro plain yoghurt6 crushes almonds Make jelly and ,...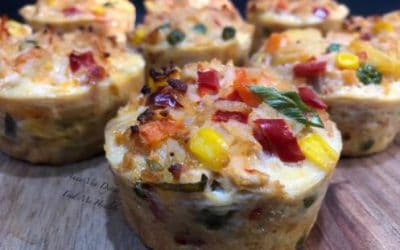 Fried Rice Cups 500 gms Chicken Breast Mince2 cups Boiled basmati rice1 cup Pineapple pieces in juice drained1 Small diced red onion1 Small red capsicum diced2 cups Frozen mix veg (peas/corn/carrot)1 tblp Grated fresh ginger1 tblp Grated fresh garlic1 tblp Soy...
Healthy Christmas Fruit Mince Recipe My husband LOVES fruit mince at Christmas time, especially for pies, so I made it my mission to make a batch of homemade fruit mince to use in various ways and make delicious Christmas treats with. 2 pink lady apples grated10...
Nuttvia Biscuits I sooooo wanted to call these "I Can't Believe It's Not Nutella Biscuits" ? but I'll go with ... 4 Ingredient Nuttvia Biscuits Super Crunchy, not overly sweet but a delicious biscuit treat. 1 cup plain flour 1 tbls castor sugar 1 egg 1 cup Nuttvia...
Mini Hotdogs 1 Coles Bake at home buffet roll1 Mini cocktail franks1 tsp American mustard1 tsp Tomato sauce (I use celebrate life no added sugar brand) 4 Weight Watcher Smart Points Each 3 Weight Watchers Smart Points if you use skinless cocktail...
Cinnamon Sugar Mini Doughnuts 1 cup self raising flour1/4 cup sweetner of choice (I use xylitol)1/4 tsp bi carb soda1 egg3/4 unsweetened vanilla almond milk20 gms Aldi butterfully light butter1/3 cup Queens sugar free maple syrup4 tsp cinnamon sugar Sift all dry...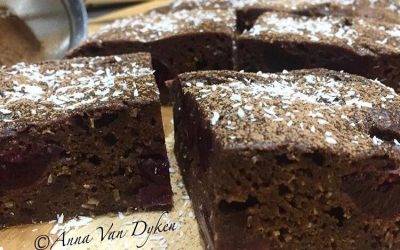 Fudgy Choc Cherry Ripe Brownies Oh My Delicious! If you love Gooey Chocolate Brownies, then you'll love my NEW recipe, I served these warm with a dollup of light cream and let me tell you, AMAZING if I do say so myself! Not overly sweet, but sweet enough, these are a...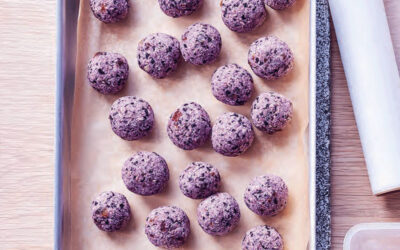 Anna's blueberry coconut bliss balls Recipe from Anna's cookbook, 'How I've Kept The Weight Off'. Made from staple ingredients you're likely to have on hand, these bliss balls are simply delicious. They are all freezer friendly, so you can prep a...
Lemon Slice Bliss Balls 6 weetbix12 big medjool dates2 tsp pure maple syrup55 gms desiccated coconut (reserve 15g for rolling)1 lemon zest2 tbls  lemon juice Break down the dates by pulsing in the food processor.Add all other ingredients reserving 15g of...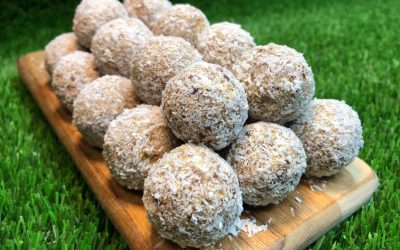 To get 10% off the WW snack box, enter my code Anna10AU or Anna10NZ into the coupon code at checkout" Salted Caramel Coconut Bliss Balls Makes 20 200 gms fresh Medjool Dates100 gms Dry rolled oats35 gms Desiccated coconut1/2 tsp sea salt2 tsp pure maple syrup Pit...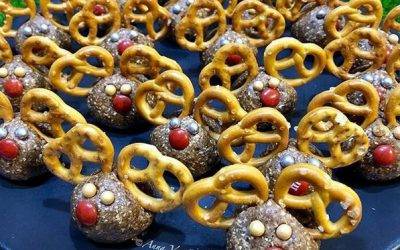 Christmas Reindeer Bliss Balls It's officially the start of the Christmas Month ?I'm sure I'm not alone with that, however, I'm kicking off the season to be jolly with these cute little guys. Question is, do they look like reindeer or koalas ?? ?Well ... either works...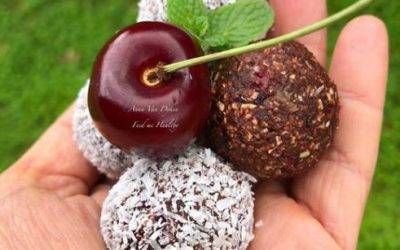 Cherry Ripe Bliss Balls 100 gms rolled oats2 Tbls cocoa powder12 fat juicy medjool Dates2 tsp queens sugar free maple syrupPinch of salt1/2 cup fresh pitted cherries3 Tbls desiccated coconut (one tablespoon for the mix (2 Tbls to roll your balls in.) Place all the...
Banana & Choc Chip Cake Balls Recipe updated 250 gms self raising flour3 eggs4 medium ripe bananas (mashed)2 Tablespoons Queens sugar free maple syrup2 tsp cinnamon50 gms Nestle Chocolate Chips40 gms Lindt 70% cocoa dark chocolate (melted) Preheat oven to 160cMix...